As an Australian-owned and operated company, we are passionate about providing innovative timber solutions that are crafted with quality and precision. Our timber products are easy to work with and add warmth, character, and texture to any space.
Timber not only looks good (and keeps on looking good), but it is also good for you. Natural elements such as timber can have measurable physiological and psychological benefits, making people generally happier and calmer.
As the only renewable building material, timber is durable and can be used in a wide range of residential and commercial applications. If it's properly maintained, it can last for a long time.
Our products are available in a wide range of timber species allowing you to select the perfect timber which best suits your space.
Timber is a natural material, with colour variations and features found within the same species. This is what makes it so appealing. It is important these natural characteristics are taken into account when creating design applications.
Interior Timber Finishes & Coatings FAQs:

1. What clear coating is recommended to protect timber?
Any clear (non-tint) coating will be suitable and enhance the timber grain. We suggest Cabots Cabothane Clear, Wattyl Estapol or Haymes Aquatic Floor or Resene Aquaclear coating. Alternatively, consider OSMO Wood Wax Finish for a clear yet richer tone. Please refer to the Commercially Available Products below for more information.
Clear coatings typically bring out the natural grain and colour of timber and can make the timber appear a little darker and/or golden. We recommend testing the coating on a number of offcuts before application on your project.
2. What is a typical standard timber finish?
Porta timber can be finished by your preferred coating contractor. A typical standard finish is a clear satin (30% gloss) coating. Fireshield® intumescent coating can be applied to provide a Group 1 solution, compliant with the National Construction Code.
Contact Porta Customer Service on 1300 650 787 or email sales@porta.com.au for further advice or recommended contractors.
3. Should I coat my timber before installation?
Porta recommends pre-coating timber on all faces prior to installation. If timber is left uncoated it will be subject to surface checking, warping and loss of dimensional stability to varying degrees. The coating is designed to slow down the rate at which moisture can move in or out of the timber and protect against attack from sunshine which when combined, will result in a breakdown of the timber and loss of stability.
All protrusions (cut holes, cut-outs and trimmed ends) should be coated onsite before or during installation.
End grains are particularly susceptible to drying, cracking and leeching of extractants. Where the installation may be affected by high humidity the end grains should be pre-coated with a specialised end-grain sealer.
4. What are the different types of finishing systems?
In addition to improving the aesthetic appeal of timber, the main function of the finish or coating is to improve the durability of the timber and slow down the rate at which the timber will take up or lose moisture. This will maintain its attractive appearance and dimensional stability.
There are several finishing coatings which can be used:
Film-forming finishes

, such as clear polyurethane and acrylic surface coatings and heavy-bodied stains. These form a layer on the surface of timber, visually creating a smooth surface and forming a barrier to moisture and can protect against UV attack.
Clear polyurethane finishes

are the most serviceable for interior applications. However, care is necessary when choosing the finish as some finishes have the potential to bond timber edges together. This may result in wide irregular gaps or may cause some timber to split. It is recommended that finishes and finish systems do not adhere boards together and are coated before installation.
Penetrating finishes

such as water repellents, oils and stains penetrate into the surface of the timber and do not form a significant surface film. With proper maintenance, these can produce a durable timber finish and allow the board to readily move after installation.
Oil and wax based finish systems containing a bond breaking sealer are recommended. Pre-finishing is recommended to ensure complete curing of the finish and prevent timber adhesion.

Oil stains

may be used to achieve special colour effects. However, we recommend that you test stains on a number of offcuts before application on your project. Where a clear finish is used over a stain, it is necessary to check with the coating or finish manufacturer to ensure the clear finish is compatible with the stain.
Timber can 'darken or yellow' if exposed to direct sunlight. Darkening may also occur over a period of years through indirect sunlight which may cause colour variations between various areas.
Finishes should be applied in accordance with the manufacturer's specifications. Check with your coating supplier for specific product information.
In high humidity environments such as North Queensland or where there is a concern about infection, consider using a finish which contains a fungicide to prevent mould or bacterial growth. Seek further advice from your coatings supplier.
5. Finish Types Table
Below is typical information for a range of finish types provided for guidance. Check the supplier's specific product information for preparation, pre-coating and applications (contact details below).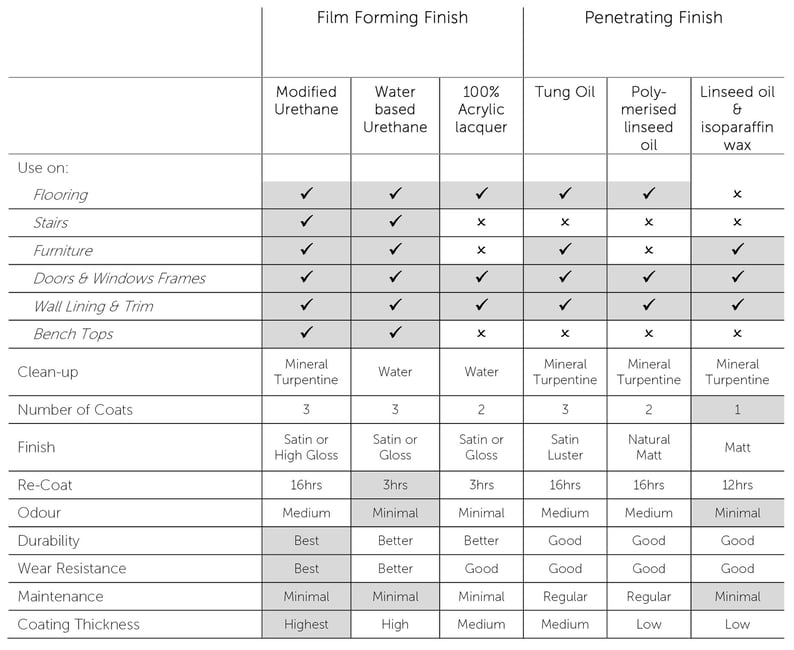 Source: Industry information including Cabots (DuluxGroup), Feast Watson (DuluxGroup), Wattyl (Valspar), Hayes, Resene and OSMO
6. Why do I need to maintain my timber?
Timber is a natural product and as the timbers ages, small cracks (or checks) are likely to appear on the surface of the boards.
Excessive timber movement as a result of changes in ambient conditions and exposure to heat and sunlight, may crack a solid coating or appear as surface cracks. The timber will then be exposed to increased effects of the environment, accelerating these effects.
This ageing process can be slowed by effective maintenance of the finish coating.
Additionally, the colour of the timber may change to a different shade after exposure to the environment. The colour variation will be different between boards and will vary dependent on the variation in exposure to sunlight and heat.
7. How should I maintain my timber?
Timber should be cleaned to prevent build-up of contaminates on the surface. Any coating or oil applied will require subsequent recoating.
Refer to the coating manufactures maintenance schedule. The period between recoating will be dependent on onsite conditions, including humidity, sunlight exposure and local heat sources.
With regular inspection, cleaning and coating maintenance, Porta timber products should meet the life of the building.
8. Commercially Available Products
The following commercially available products are available for the installation and maintenance of Porta timber. These are provided as guidance only (not available from Porta). Refer to the suppliers' specific product performance, preparation, pre-coating and application information.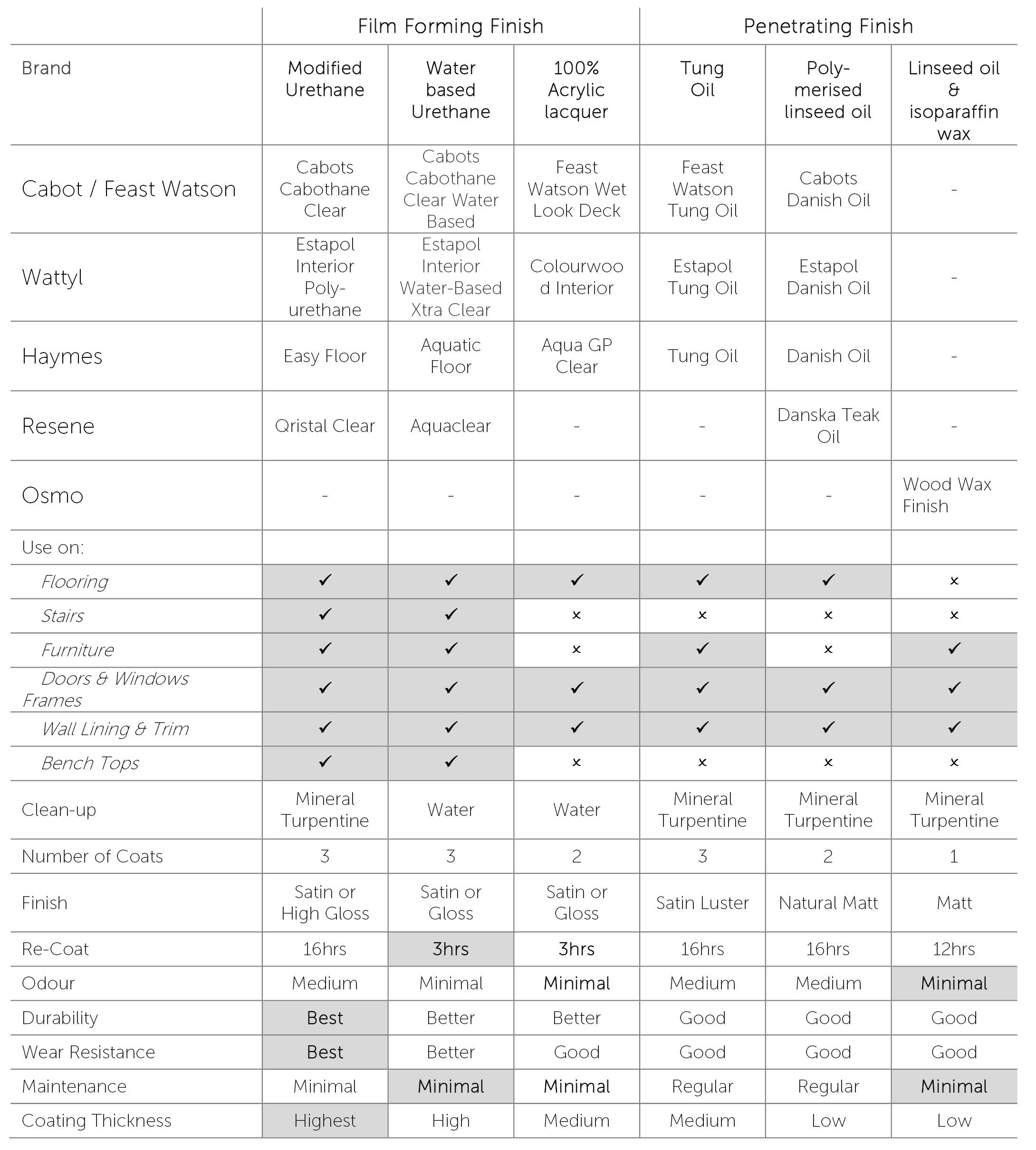 Note: Inspect, sand and recoat when there is visible deterioration in the coating.
9. Further Information
For more information on timber coatings and finishes, please contact your preferred supplier below:
| | | |
| --- | --- | --- |
| Brand / Supplier | Customer Service | Website |
| Cabots (DuluxGroup) | 1800 011 006 | |
| Feast Watson (DuluxGroup) | 1800 252 502 | |
| Wattyl (valspar) | 132 101 | |
| Hayes | 1800 033 431 | |
| Resene | 1800 738 383 | |
| OSMO | 03 9464 4252 | |
Source: Industry information including Cabots (DuluxGroup), Feast Watson (DuluxGroup), Wattyl (valspar), Hayes, Resene and OSMO
Featured Projects:
Find out more