We've all heard the expression that the kitchen is the heart of the home and there's a good reason why.
No longer is the kitchen an afterthought, a space where you simply prepare and cook food. Did you know that they are also incredibly good for the mind, body and soul?
The kitchen is where we connect. It is where we spend time bonding and sharing special moments with our loved ones. Whether it's discussing the day's events over dinner with family or catching up with friends over drinks and nibbles, the kitchen is the place to be.
As the central hub and major workstation of every home, it is important that this space is one we love spending time in.
These top 8 tantalising uses of timber in kitchen and dining are sure to get your taste buds tingling!
1. Textured Island Benches
Perfect for food preparation, extra seating or socialising, the island bench is a popular addition to any kitchen. Garnishing the island with three-dimensional profiles, such as Porta Contours stylishly elevates the island to greater heights by creating depth and a striking focal point.
Rachel Winton Photography perfectly captures the Family Oasis Island Bench by Tennille Joy Interiors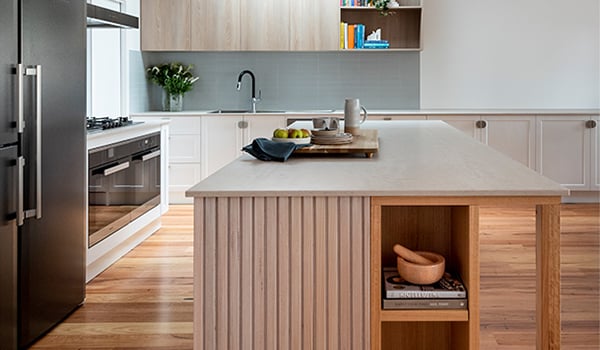 Designer: Tennille Joy Interiors | Photography: Rachel Winton Photography | Product: Porta Contours Strata
2. Cabinetry Highlights
Along with dressing the island bench, kitchen cabinetry has also been tossed into the mix. Cabinetry is a major component of kitchen design as it influences the overall look, feel and functionality of the kitchen space. Whether it's cladding existing cabinetry or starting fresh, beautiful cabinets provide a visual backbone to the kitchen.
Timber Tip: When applying timber to existing cabinetry, consider the extra weight of the timber on the hinges. They may need to be upgraded!
In this kitchen by Jo Carmichael Riverine Porta Contours cleverly conceals the cabinetry and the fridge to create a seamless finish.
Designer: Jo Carmichael Interiors |Joinery: JP Wood Work SWA | Product: Porta Contours Riverine
3. Timber Dining Settings
As a warm and inviting addition to any home, timber dining settings are perfect when nourishing the body, mind and soul. Dining settings made from timber are naturally beautiful and durable, ideal for bringing people together and adding a sense of comfort.
This Australian made dining setting by SoWatt celebrates the effortless beauty and inherent strength of timber. With legs made from Porta Dowel in Tasmanian Oak, it's a natural conversation starter.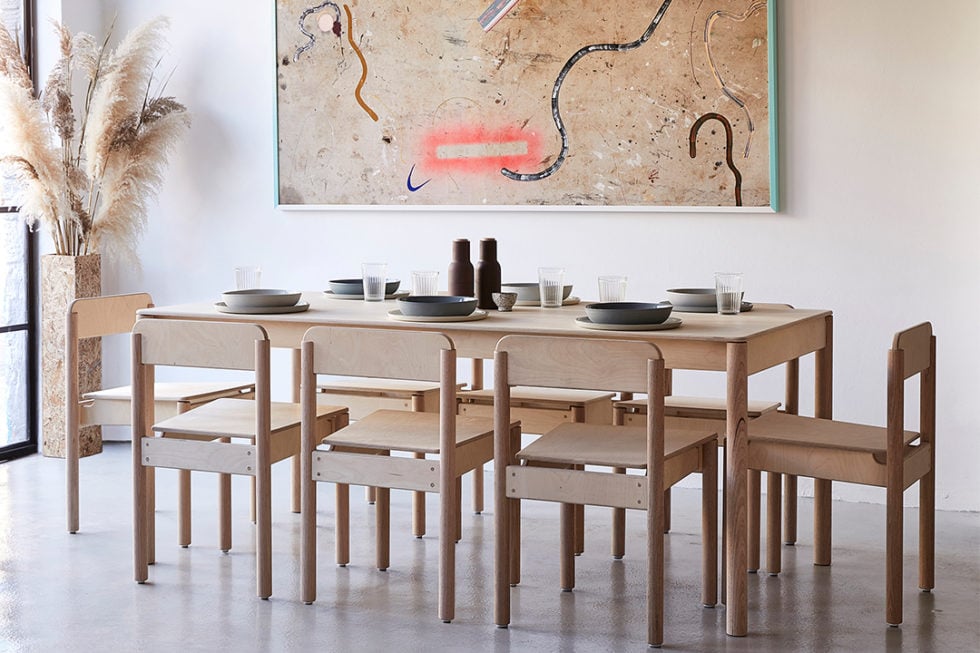 Maker: SoWatt | Photography: Nic Gossage | Artwork: Emma Finneran | Crockery: Mud Australia | Product: Porta Dowels
4. Feature Walls
Increasing in popularity, particularly in dining areas, timber lined feature walls invoke a sense of warmth and comfort. Enveloping an entire wall like a soothing embrace, timber feature walls can also encompass doors, creating concealed doorways for a seamless finish. As a textured canvas, timber feature walls can be used to define spaces or wrap around to connect spaces.
A perfect example is this dining nook at @noosa_penthouse37 where the timber paneling envelopes the dining space creating a cosy hub.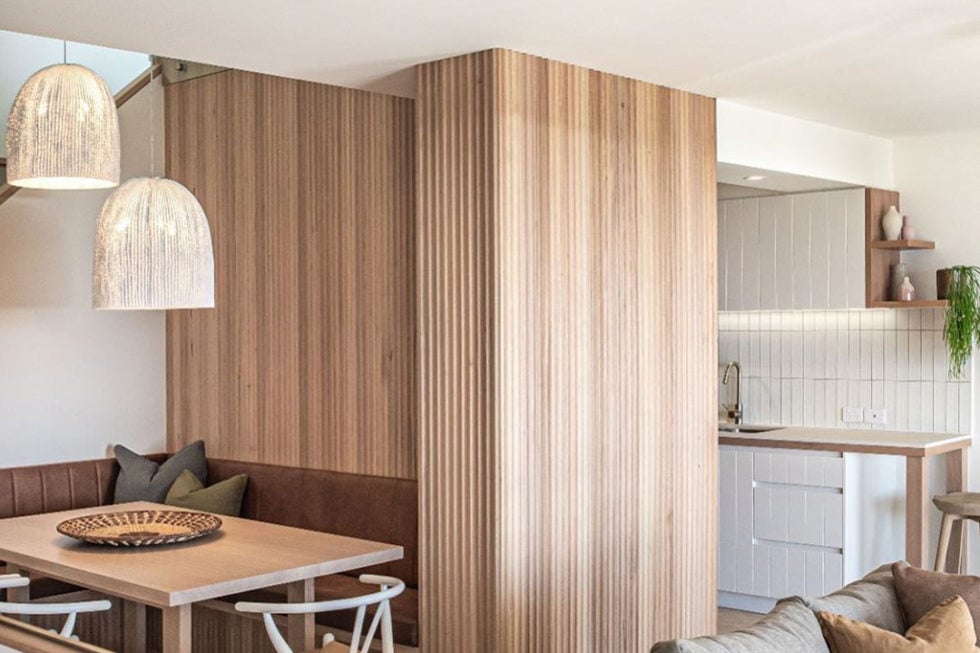 Designer: Renegade Design Studio | Photography: Emma Bourne Photography | Builder: Captivate Constructions
5. Creative Touches
Add some zest to your kitchen or dining area with an out-of-the-box creative touch. With a sprinkle of colour and a dash of texture, you can create decadent vignettes that heighten the taste buds and connect the senses.
Colours and textural timber elements have been carefully considered for maximum impact in this sleek renovation by Hindley & Co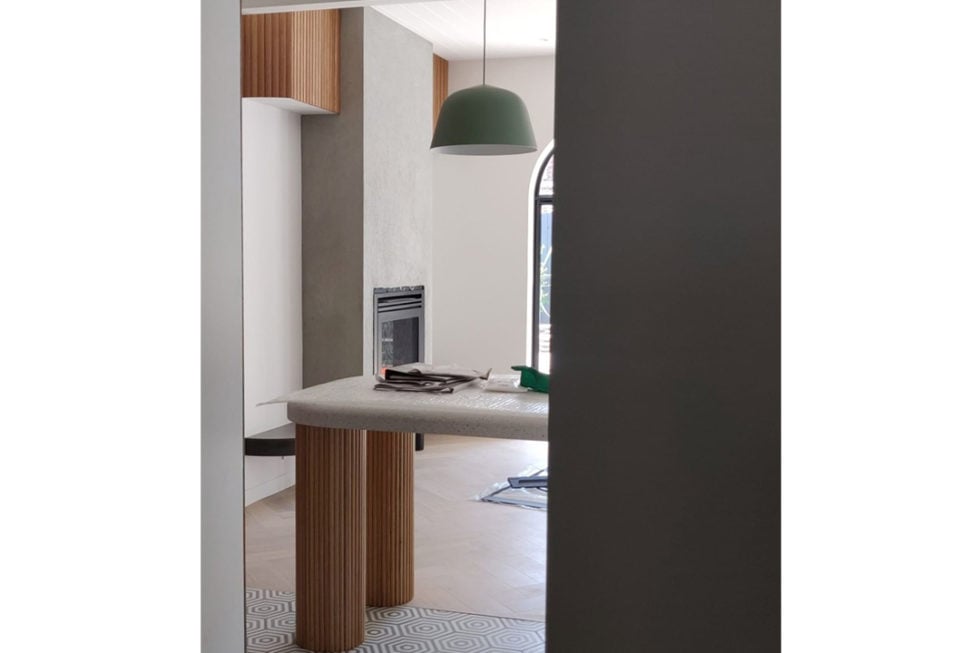 Architect: Hindley and Co | Joinery: Jfj Joinery | Builder: Baker Building Group
6. A Celebration of Curves
Curved kitchen island benches, curved walls and curved accessories are some of the biggest interior design trends in 2020. Softening hard lines as well as the sleek finishes of functional spaces, curves can also be practical.
Rooms with a curved element promote traffic flow, reduce hard edges (and hard corners) while creating a more comfortable and beautiful aesthetic such as this island bench by Zou Build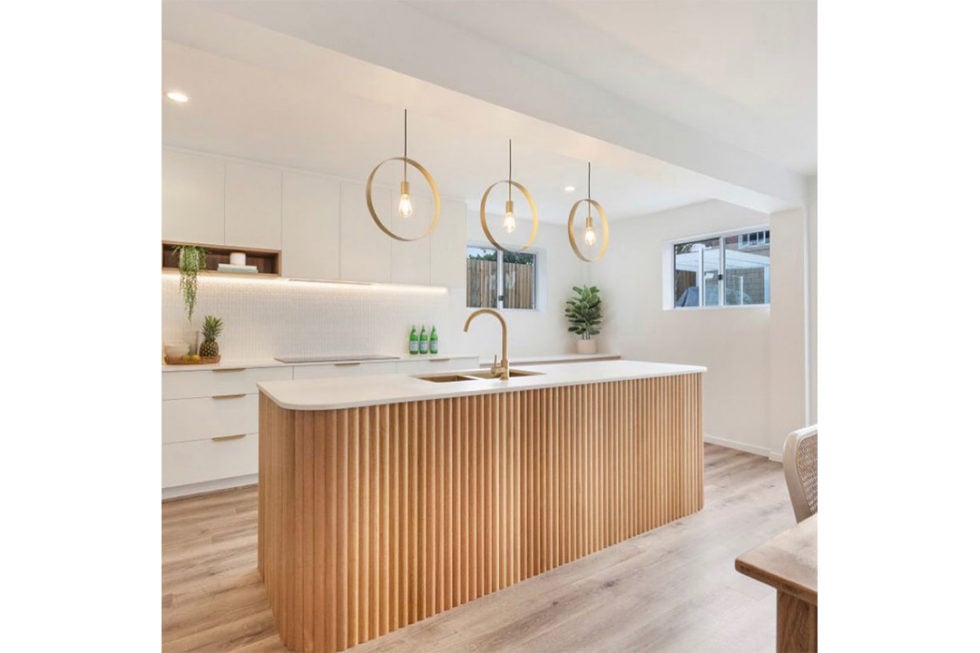 Builder: Zou Build | Joinery: Cabinet Collective
7. Bold Statements
Spice up your kitchen and make a statement! Be bold with your flavours. Monochromatic colour schemes, industrial finishes and textural components can all be used to create a lingering impression.
This stunning kitchen from Big House Little House incorporates textural finishes with a monochromatic colour palette to add dimension.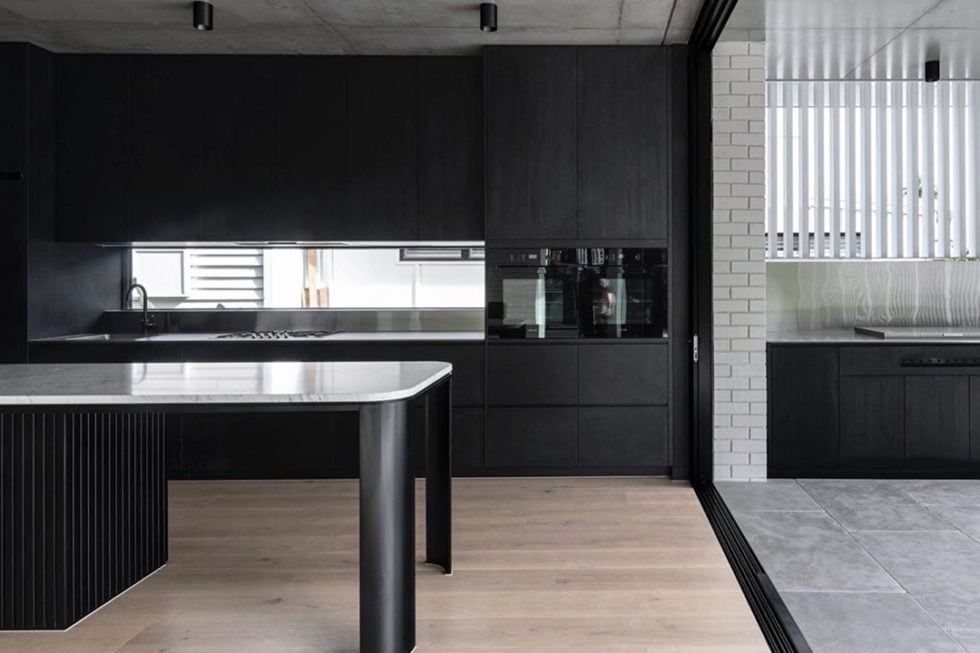 Designer: Big House Little House | Builder: K2 Projects | Interior Design: Kco Design
8. Natural Elements
You can have your cake and eat it too! Not only does timber look good (and keep on looking good) it is also good for you. Research has shown that the use of natural elements such as timber can have measurable physiological and psychological benefits, making people generally happier and calmer. So bring nature into the heart of your home and cultivate a warm and calming atmosphere.
Organic timber grains create the perfect blend of straight lines and curves in this stunning home from Steer Development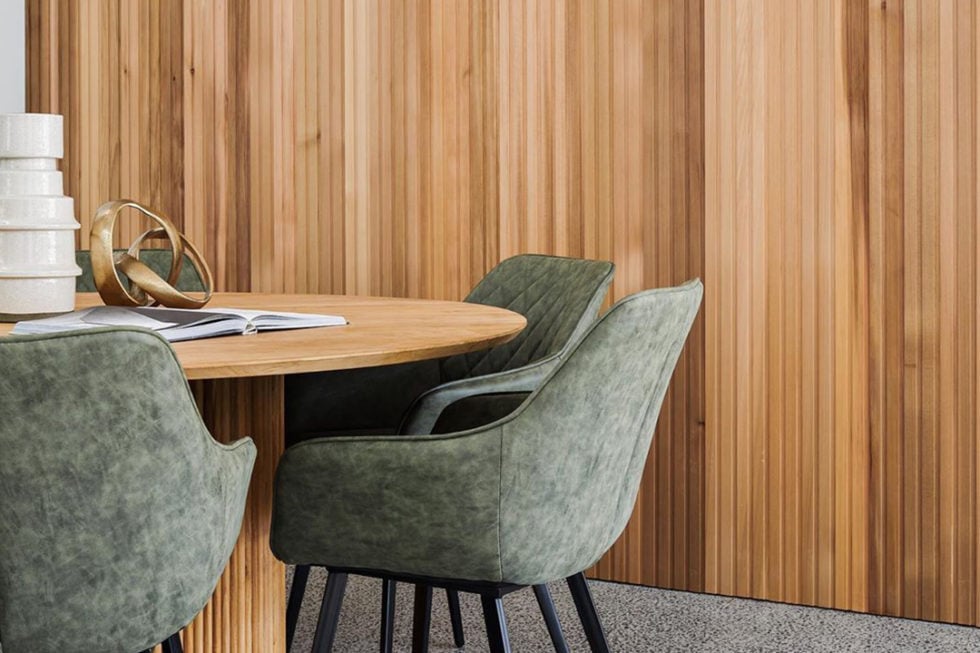 Developer: Steer | Interiors: KJK Interiors | Architect: Tim Stewart Architects | Builder: Alroe Constructions | Photography: Photomgraphy | Product: Porta Contours Strata